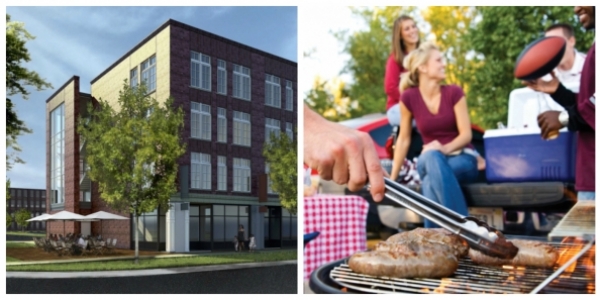 PMC Property Group Proudly Unveils Cutting-Edge New Property in Columbia, SC: 612 Whaley
Columbia, SC — PMC Property Group is excited to announce the grand opening of 612 Whaley, a new luxury apartment community for students and young professionals in the leafy historic mill district of Columbia, SC. This new property will provide an appealing new housing option on a formerly unoccupied lot across the street from two other existing PMC rental properties, Olympia Mill and Granby Mill. Together, the three properties — collectively called The Mills — are adding to the momentum of a recent housing boom for young residents in this downtown neighborhood near the University of South Carolina.
The new building at the corner of Whaley Street and Olympia Avenue will feature 184 one- and two-bedroom luxury rental units with a plethora of desirable features:
Modern lobby with free WiFi
Generously sized apartment floorplans
Two-story, state-of-the-art fitness center featuring cardio and free weights
Collaborative lounge with Smart Board, USB/smart outlets, and free WiFi
Comfortable, quiet study vestibules
Resident billiards lounge with pool, ping pong, shuffleboard, and poker table
Resident entertainment lounge with PS4, xBox, and big screen TVs
6 acres of open green space that includes a public park and a walking path
Walking distance to USC's Williams-Brice Stadium, eateries, and bars, and less than one-half mile to USC's campus
The property also boasts 6,500 sf of ground-floor retail space that will house three commercial tenants. The first is White Duck Taco, a fresh new addition to the Columbia restaurant scene with an innovative menu featuring specialty tacos. The second is Village Idiot Pizza & Pub, a hugely popular local landmark bar/restaurant chain established in 1990 with two other locations in Five Points and Forest Acres offering hand-tossed New York-style pizza, wings, sandwiches, salads, strombolis, and calzones. The third retail tenant is yet to be determined.
The Mills complex also offers residents the following appealing amenities:
The Mills Cafe with free WiFi
Active social calendar
BBQ areas with grills
Large pool with WiFi-enabled deck
Complimentary fitness classes
Tennis, sand volleyball, and indoor/outdoor basketball courts
24-hr controlled building access
Evening courtesy guards
Cable and high-speed Internet available
On-site parking available
"We are thrilled to expand in this growing neighborhood with a truly unique new property at 612 Whaley," explains PMC's Dan Rothschild. "Being in such close proximity to USC, we are certain that it will really appeal to not only students, but to young professionals, as well."
PMC Property Group plans to begin moving residents in at 612 Whaley during April 2015.