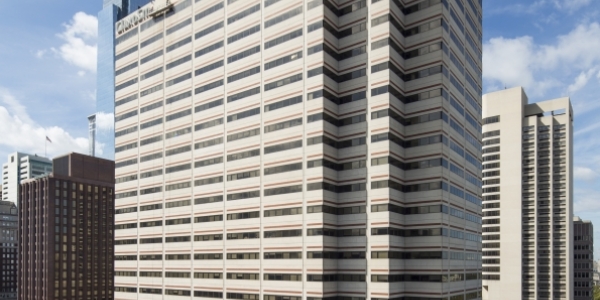 PMC Property Group Purchases One Franklin Plaza
Philadelphia — In partnership with Lubert-Adler Real Estate Fund, PMC Property Group has purchased One Franklin Plaza, the former North American headquarters for GlaxoSmithKline located at 200 N. 16th Street in Center City West, with plans to redevelop the property, which has tentatively been renamed One Franklin Tower.
The 24-story, 607,474 sf building, originally built in 1980, will be fully converted to a premier mixed-use property consisting of first-class office space and luxury apartments. The property's office component will feature floor-to-ceiling glass windows with generous natural light, excellent planning dimensions, eight corner offices, and its own dedicated contemporary elevator lobby. The apartments will offer generously sized floorplans, luxury finishes, and a full complement of modern amenities.
This property, located at the northwest corner of 16th and Race Streets, is adjacent to the 759-room Sheraton Convention hotel, which is currently for sale. The hotel and One Franklin Tower share a two-level, 450 parking space, underground parking garage, providing occupants of One Franklin Tower direct access to the hotel's restaurant and amenities.
Slated for completion in late 2016, One Franklin Tower also offers close proximity to Center City's business district and the Comcast Innovation towers, the cultural and park amenities of the Benjamin Franklin Parkway, and Suburban Station public transit, I-676, and I-95.
For commercial leasing information, contact Craig Scheuerle, Wayne Fisher, or Jack Soloff at Newmark Grubb Knight Frank at 215.561.8300.
About PMC Property Group
PMC Property Group is an owner, developer, and operator of premier urban real estate throughout the East Coast corridor. The company specializes in discovering unique opportunities in under-utilized and overlooked urban properties with a proven track record for transforming them into thriving rental communities and commercial spaces. Their portfolio of properties currently spans key urban centers in Massachusetts, Connecticut, Pennsylvania, Maryland, Virginia, North Carolina, South Carolina, and Florida.
About Lubert-Adler Real Estate Fund
Lubert-Adler has raised over $7 billion of capital and invested in over $17 billion of real estate assets. The firm's more than 20 real estate professionals are experienced in underwriting, acquiring, repositioning, refinancing & selling real estate assets. Lubert-Adler focuses on acquiring and enhancing mid-size, value-add rental assets including multifamily, credit retail, urban mixed use, and business hospitality assets. For more information, visit lubertadler.com.
About Newmark Grubb Knight Frank
Newmark Grubb Knight Frank is one of the world's leading commercial real estate advisory firms. With roots dating back to 1929, NGKF's strong foundation makes it one of the most trusted names in commercial real estate. For more information, visit ngkf.com.